DIY Showcase At The Maze 9th May 2019
[Reviewed by Clare Stewart]
Laura Grevel, in lovely colours, a pink jacket and aubergine hair contrasting with her blue eyes, had some Aristotelian questions for us. The answer to all these inventive questions was No. I've never roasted snakeskin and dipped it in chocolate? Does this mean I'm boring? Does this mean I live a very narrow life? No, I think it means Laura has a kerazy imagination and a philosophical turn of mind.
Senora Amazon, written as a heartfelt angry letter from the natural world to us, the overconsuming, greedy and damaging species. Eventually, like a worn out mother, she tells us to clean up our own mess. Laura's extraordinary awareness of the natural world and all her travelling give her a very wide perspective, she's a wake-up call in herself.
Martin Grey who was also a compere, and with his parents in the audience, told us that he's gone soft and romantic. Maarrtin!!! Letting the team down!!!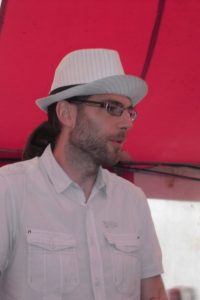 Speaking his poems from memory, his first poem was about cherry blossom. A wonderful mixture of images to do with adventure and with office life. Remember a time when cherry blossom fell on someone's nose and made them sneeze. The images very cleverly mixed up and interspersed in a way that made the mind dance from image to image.
Then, I Want to be an Astronaut. I don't know if this was written specifically for the To the Moon and Back gig at the poetry festival, but I think that's where I first heard it, it shows us a journey to outer space, past different planets, hitching a ride off Halley's Comet, imaginatively drawing us a spacey journey, he invites us to come with him.
Martin's setting out on his own poetry journey and we wish him lotsa luck. And we like soft and romantic, actually.
Andrew Martin, also a compere, and I was just wondering about his waistcoat, not the usual multi-coloured affair, but a white on white striped one, he explained his friend had made it from ex-curtain material, and beautiful it was too.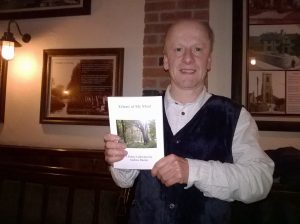 Andrew's concern about the environment is evident through this choice of poem topics – forests, the stored food of hibernating animals being damaged, a restored coal tip, floods in the east of England 1953. Another poem about Timpson's the key-cutters and the business's commitment to employ ex-prisoners also reflects Andrew's compassionate leftism.
Hazel Warren taking a risk reading off her cracked phone screen. It is a rather beautiful crack, and I agree it would be hard to get it mended, but it does make reading off it a bit difficult.
First, a poem to friends on their marriage. In her soft voice, Hazel told them their marriage is strong, the kind of love that will share its dinner with you. Aww…
Her second poem was about communication. Hazel is all about communication, the importance of just sayn what you gotta say. Take a leap of faith.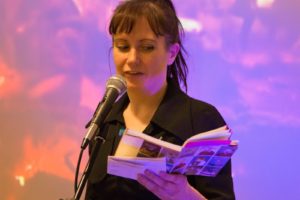 And prize for the most beautiful poem of the evening has to go to Hazel for her poem In the Morning, about that magic moment between sleep and waking. Starting most of the lines with the word 'Before' gave the poem a rhythm and a sense of nostalgia, almost, like fluid, like music. Mmmm lovely.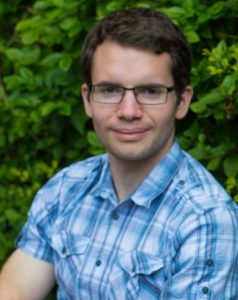 Will Kummer our featured poet of the evening. He found DIY Poets, can you believe this, only a year ago, at last year's poetry festival!! He's quickly become a core contributor to the collective. Will watches life quietly and invites us to take a peak with him.
Will also speaks his poems from memory, a feat of which I am in complete awe. It really changes the relationship between poet and audience. Will doesn't make many gestures, he has a strong, clear voice and is a still but solid presence on the stage. All this lets the words do the talking.
The first two poems had a similar theme, truth, the first asks if we can believe truth, and the second is a poem about our fragile world. But he's hopeful that we can learn and meet the challenge of climate change. Let's hope so.
Spacecraft, written for the To the Moon and Back gig at the poetry festival, Will called this a cheapskate villanelle cos he didn't have time to make it right in time for the gig. I think he should just call it a Willanelle and say he's invented a new poem format… It's an imaginary trip to outerspace.
Banburgh Beach is an old favourite. I love the image of the dogs playfighting at the end of this poem.
This Place, a real favourite of mine, love this poem. This is actually a villanelle, and it combines countryside and work vocabulary. Describing a field, 'This is not a spreadsheet with data row by row' a yearning to forget work and enjoy this trip to the country.
The Mugging, about being mugged by London starlings. Well, you know what those London ones are like.
The Lincoln train, hilarious poem about the crowded 20.30 train to Lincoln on a Saturday evening. Really funny portraits of the various drunken people and the scrapes they've gotten themselves into.
The Marrow. I find this poem really intriguing. I love watching over Will's shoulder as he notices the gradual dilapidation and eventual disintegration of this mortal marrow. And the question, is it now still a marrow? And my own question, why didn't someone pick it up and cook it and eat it or something??
A Bladderful of Hyperbole. A wet patch on a wall. What is it? What was it? We listen as Will goes through all the possible answers, stupid, serious, mundane. Funny.
That was going to be his last poem, but proving again that timing yourself before the gig bears no relation to how long it actually takes when you're on stage, he was too early to finish, so he recited a few more poems, (also from memory!)
The Goose Manifesto came out of a workshop at a nature reserve. About bullyboy geese – does Will have a thing about bully-birds???
The Purring Dead about zombie cats that play with you and leave your corpse on the doorstep, and finally a limerick about bald garibaldi biscuits. (I've been craving one ever since…)
Great, impressive set, Will.
DIY Showcase At The Maze 9th May 2019