REVIEW – 'Rude Awakenings' by Sue Allen
REVIEW – 'Rude Awakenings' by Sue Allen
[Review by Leanne Moden]
Sue Allen is a witty wordsmith with a talent for finding the Funny in every situation. 'Rude Awakenings' is her first collection of poetry, and it's just as saucy as the title suggests.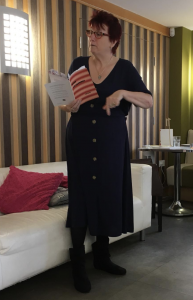 There's plenty of sex and rock & roll sprinkled throughout the book, and Sue does a great job balancing the surrealist pieces with the more serious poems. Whether she's longing to be Johnny Depp's string vest, lamenting the puckish nature of her own monkey mind, or thinking about a world where poets do all the town planning (Spoiler alert: it's a wonderful place but not particularly practical!) this collection of poems has something for everyone.
And, when she's not comparing men with bras or talking about very risqué alarm clocks, Sue's poetry also has plenty of bite. Many of the more serious poems in the collection come from a place of female frustration, and her frequent references to fairy tales and witches show a writer interested in reality versus perception, as well as the shifting roles of women in society. Sue's writing talks a lot about the power relationships between men and women, and her poems always have something to say about how we relate to one another.
My favourite poem in the collection, 'Upsetting the Apple Cart', is a rebellious call to arms for anyone who has ever been excluded, oppressed or forgotten, and the final poem in the book, 'Margery's Revenge' is a fantastic 'up yours' to anyone who has ever abused their position of power.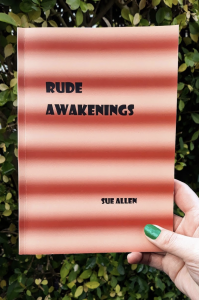 There are plenty of laughs in 'Rude Awakenings' but there's also plenty to get your teeth into, too.