Just Another DIY Night At The Maze
Just Another DIY Night At The Maze
Review of DIY Poets Showcase At The Maze May 10th 2018
by Jake Wildeman and Martin Grey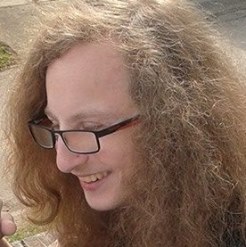 'Just another DIY night at the Maze'… there's two things wrong with that phrase. The first being 'just'. This venue is a deeply special place, one of the most intimate you might find in Nottingham. Whether you're here for music or poetry, you'll find that there's no barrier between performer and audience… it's a wonderful feeling. The second problem is 'another DIY night'. That makes it sound terribly unassuming. In fact, this was our thirtieth quarterly gig at the Maze, and rather a standout in my humble opinion. Opened warmly by the lovely first time compere Gwen Smith, it was underway.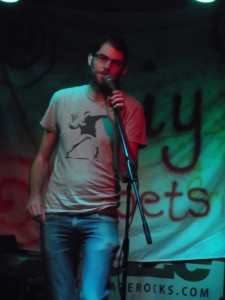 Martin Grey was the first poet called on and, much in the spirit of celebration, he revealed that five years ago to the day was his very first open mic performance, at this very event no less. He happily brought the audience into his initial piece, 'The Night Beelzebub Went to the Pub', asking for our participation before launching the poem itself. To surmise, it was traditional Martin… this is a man who I am not afraid to call punny as hell, but it was also a deliciously relatable and humanising look at the devil you know. Following up from that came an improvised poem titled 'A History of Love', which was without a doubt both skillfully crafted and shockingly affecting as much as it was entertaining, and a fine argument for more improvisation in poetry.
Next to the stage was the incredible Alistair Lane, who stepped straight into his opening poem. Here, Al was at his most romantic, weaving beautiful lines expressing almost painful longing, "My spark that jumps the synapse wants to jump to yours", and ending on the affirmation that "love means making that connection with one, poetry with the many". Naturally, it was then time for something completely different. 'How Rude' was a delightful piece with plenty of warm humour and just enough edge to appeal to everyone, serving as the middle ground between Al's heart and his wonderfully comedic mind. He closed with the single greatest animal-focused title/refrain that you will ever encounter: 'My Cat's a Sexy Motherfucker'. Just try to argue with that.
After Al came a first time performer at the Maze and a recently inducted member of DIY, Jesse Freeman. This amazing young woman's set was punctuated by her beliefs as an outspoken anarchist, and all the more powerful for it. First came 'To Vote or Not to Vote…', then 'JC or Tory?', both staggeringly even looks at modern politics and how the strings are being pulled on our "Pinnochio parliament". Her third piece, though, was perhaps the longest and most impactful of the night. Titled 'The Fucking Rant', and initially started as a joke, this piece carried into a legitimate tirade against all the injustices of the world. It was proof that something seemingly meaningless can become all-encompassing, and that wisdom need not be eloquent… especially not with all those f-bombs!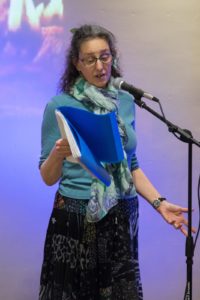 Following Jesse was the delightful Clare Stewart, who began with what she described as 'a very depressing poem'. It was indeed bleak, containing the absolutely agonising refrain "he drove in silence". Doubling down on misery with her second piece, she went on to present a crushing portrait of a man whose dreams of writing simply cannot become real. To close, however, she chose 'Oil Rig Woman'… a new-ish piece, with a delightful narrative and some wonderful imagery, focused on pool swimming conventions and respect for an immovable object. Having heard it a few times, I can safely say that it stays just as amusing.
To finish our first of three halves was Andrew Martin who, unusually, chose to do a non-political set but, as is his natural law, was wearing a waistcoat. The piece he chose, and indeed it was just the one, was titled 'Nuclear Family', and remained in his well-honed stream-of-consciousness style yet covered issues I've never heard from him before. Playing like a poetical autobiography, it was truly a beautiful shift from my expectations and was deeply touching to behold.
The warm atmosphere continued to thaw out the cup cakes that "might still be frozen" according to the aforementioned Clare Stewart, whose daughter Miranda had kindly baked them for us. Thirty cakes for the thirtieth gig at The Maze were now going fast.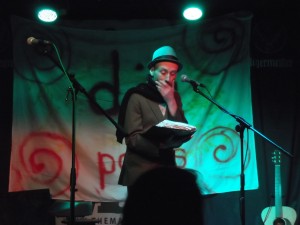 There was only one person to kick off the second half, the only one of us who'd been to all thirty shows, Frank McMahon, who was in a good mood after seeing Wolves promoted back to the Premier League. "Jesus Saves", inspired by a placard he saw in their celebration parade, told of how Jesus can save for a house deposit but for most of us it's like turning water into wine. Using cycling, hot air balloons and Jude the Obscure, his poems meandered through gender inequality, the fear of performing from memory, real friendship and an episode of The Detectorists where they found a Status Quo badge.  A back of the net performance.
Daron Carey gets better every time you see him. With his shoulders spread wide and a voice that would project all the way to Finland, Daron confidently strode through two great poems. His fixed faced members of a travelling circus, the "Circus Symposium", were a metaphor overload of struggle, harmony and living off gratitude, from the first fish to walk to Constantinople to Santiago the Serbian chef. For his second poem we spent time with two men, one his destiny, the other who he wants to be, and a childhood soaked in parallax. Daron's words grabbed you and didn't let go, we hope he comes back soon!
Jake Wildeman was next, our self proclaimed "poetry goblin" and a young guy with words well ahead of his years. His first poem took us into the minds of humans who don't try to be human, where emotions are prohibited and imperfect urges threaten their rationality. Men with scythes and cheques who ride different coloured horses filled his second piece, "Horsemen", a vivid allegory of our continual destruction of the world. Jake performed with a real humanity that contrasted with the lack of humanity depicted in his poems, delivering a set with real emotional depth.
John Merchant always improves your mood and tonight was no different. His poems often come in pairs, a secular version and a Christian version, tonight's pair exploring the essence of our moral compass and faith. "For If" gave advice on how to find your peace of mind and then help others find theirs, while "Face It" told us how getting over problems will lead to better things and that most fears will never come to pass. John's staccato lines and frequent rhymes were a real pleasure to listen to, leading to a fine performance all round.
Our final feature act of this half was Fay Deller, a strong female voice, which we like very much here at DIY Poets. In a very personal and powerful set, "Empire Windrush" told of her Windrush generation partner being coldly informed of their deportation in a citizens review, how after being integral to the rebuilding of the country they're now told their welcome has been exceeded. Using direct references to the "No Irish, no dogs" days of yesteryear, she left you with a strong sense of injustice in your mouth. Her second poem, "Chances", beautifully captured what can go through your mind when you have suicidal thoughts. Fay's words made you really glad you were there to hear them, it was a great performance.
We also like an open mic at DIY Poets and were pleased to see a mix of nine new and regular performers ready to take to the stage. Laura kicked off with "Baby to Be", a lovely little poem about two friends who will soon be first time mothers. Lolly Dean followed with a heartfelt tale of how kids don't always bounce back as well as it's claimed they do, with vivid images of getting bullied for receiving a free dinner and taking the longest way home from school expertly laced through the poem. She finished with "Parents", about parents who wanted to have their kids taken away. A very touching, personal and relatable set. Then it was Ros, with a stage entry and mic freeing in one seamless motion, whose high energy hit you like a whirlwind and whose poem about recording bipolar disorder on a scale blew right into your social conscience. "I'm a six today, it must be the Prozac".
Joy Rice brought the Nottingham dialect to the stage in "Bath Time in Basford", when bath time was watching TV in a tin bath in the living room before drying out on an old Evening Post (now Nottingham Post). She then told us how her husband didn't want to go on a cruise, so they compromised and went to Southwold instead. It were reet funneh midducks and nobody had a cob on afterwards.
Gwen Smith then celebrated how maths books look to complex universal questions in "Higher Maths", then read a lovely little poem about how we change as birthdays pass, from our skin and teeth to our perspectives. "No more misery, please!" then shouted John Humphreys, referencing his recent forays into very dark poems. Instead, he offered us "entertaining misery" in his best Southern American drawl, about a fading devil riding hell's lost highway and sinking the whiskey of the lonesome. Marvellous stuff.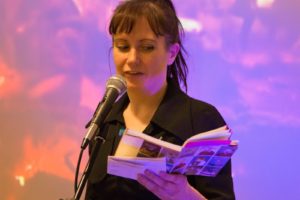 Light and dark was Hazel Warren's theme, first pondering how the darkness makes you feel and how to hide yourself within it, then pondering what happens to the fridge light when the door closes and how its glow makes you feel in "Midnight Snack". Alex, aka Motormouf, said it was great that DIY Poets were still doing their thing after so long, then preached peace over guns with some excellent rhymes. It felt like he was only on stage for a moment, but his energy, support and positivity were very welcomed. Tish Tunbridge closed our open mic with two tiny poems, firstly about an old camper van that used to be her freedom, then a playful take on how we gather. "We gather our treasures near us, we gather we can make a difference." Short and sweet poetry that hit the spot.
Every open micer was great and we hope to see them all again soon! We then came to our featured poet of the night, the incredible Sue Allen. What can I say about Sue Allen? Well, she is quite simply one of the most wonderful human beings I have encountered… so full of life, so terrifically and, I dare say, terrifyingly vital… she lives, exists and puts everything she has into existence. That is my summation of this amazing woman, and I've nothing but admiration towards her for that. She covered Sting, walking us across the face of the moon with a singing voice that wasn't perfect but was undeniably real, human and made the words all the more genuine for it. She then moved into a mix of new and old works that could only be pinned together by the fact that they were very much 'Sue'. 'Monkey Mind', with it's fittingly foul language, 'Meg's Arse', a hilarious show of storytelling that was short but honestly needed to be no longer, 'About Growing Old', which had a terrific flow and genuinely fearsome threat that she'll "turn you into a slimy toad"!  Her newer poems, or at least those I hadn't heard before, tended towards a more surreal bent. 'Interruptions to a Quiet Night In' was a stellar display of imagery, both unusual and disturbing, while 'Inspired by My Garden' painted a vibrant picture of an unholy shrubbery and a demonic rabbit. Seemed rather Pythonesque to me. Of course, I'd be remiss not to mention 'The Nine-Fingered Knife Jugglers of Derby'… let's be honest, you only need hear the title to be intrigued. Her final few pieces were very much classics, including what I consider a trilogy: 'Inflatable Man' with it's singalong segment, 'Plastic Man' with it's loving contrast to the former, and the closing 'Mankini Man' filled with cringe-inducing pictures you can't help but laugh at. All in all, Sue Allen was Sue Allen… the finest poet to've ever emerged from the depths of Mansfield, and perhaps even the only.
After that last assault on my status as a member of the male sex, we welcomed our musical guest… the poet Frank McMahon! Frank played us some beautiful instrumental pieces on his acoustic guitar, engaging with the audience between each to speak on his influences and provide context for the works he covered. It was the perfect way to close the DIY celebration, with a DIY musician.