Review Of SPEAK UP! April 25th 2018
Review Of SPEAK UP! April 25th 2018
SPEAK UP! @ THE LORD ROBERTS NOTTINGHAM, APRIL 25TH, 7:30pm
 Reviewed by Andy Szpuk
Gaining entrance to a poetry event with a tin of sardines felt a bit surreal, like stepping out of a Salvador Dali painting, but of course this was a We Shall Overcome (WSO) event, so people were asked to bring food bank donations instead of paying admission. But, if it felt slightly bizarre, it echoed the extraordinary and outlandish evening of entertainment that was to follow.
WSO is a movement that began in 2015 after the UK general election, in the knowledge that the nation was about to be subjected to turbo-charged austerity. It had humble beginnings, initiated by a washing machine engineer in Scarborough called Joe Solo, who also sings and plays guitar. Halfway through the evening, Pete Yen, local WSO stalwart and supreme gig/event organiser stepped up to the mic to tell us that the movement is growing in strength and raising funds for good causes continues nationwide. He also thanked Stewart Halforty of People's Assembly for his considerable contributions to the cause. Pete read a poem written by Joe Solo, 'Why Are You So Angry?' It was a great rendition, and captured the tone of the evening where political views poured forth, in between fractured lines of the idiosyncratic and wonderful.
The room filled quickly, and my eye line was punctuated by hats of various descriptions, Frank McMahon of DIY Poets sporting a Jeremy Corbyn type effort, Martin and Julian of From The Word Go wearing summery straw hats, and a few flat caps dotted around.
Martin and Julian opened with a taster for their headline act, with a quickfire poetry duet, with rapid exchanges and dainty wordplay, examining the relationship between land and money: 'Is This Really The World That Money Bought?'
Next up we had 7 open mic poets. First up was Jake Wildman who treated us to 'An Age of Heroes and Godkings', which drew on literary images, and 'Intoxicant', about losing the self, which observed that losing the self can dull the senses. Then, Andrew Martin arrived at the mic, reading selections from his book 'Echoes of my Mind'. He read a poem about Grenfell, then a Facebook poem, which examined data privacy and ended with a stellar line: 'the tip of the Zuckerberg', and completed his slot with 'Men are from Bars', examining gender stereotypes, men drinking, women knitting.
Martin was a great host and compere, but a feature of the evening was his need to readjust the height of the mic for each performer. He skilfully manipulated the audience into thinking he'd forgotten each time, and then coming to his own rescue, squeezing every drop of drama from the situation.
Jess Freeman jumped on stage next declaring a mission to deliver poetry that is personal rather than political, but she made every word count, on all levels, with 'I'll Still Be Here', a cry of solidarity for those with damaged souls.
Manjet Sahota got on the mic straight after and served up a poem about the cheese riots in Nottingham in 1766, called 'Dairyphobia', it was a fine slice of rhyme, and he then read 'Iron Queen' about homelessness in Manchester.
Emma was up next with a 'Love Letter to the NHS', celebrating the heroics of health staff, a compelling picture that rang true completely.
Eleni jumped on to pour forth with an ode about water, all about a strong urge to be near the wet stuff, a strong tribute to H2O.
The open mic concluded with Jay Plus 4, a brief showcase of 2 projects: DH Lawrence and how he developed poetry, and Freedom. Jay recited 'Manifestation', observing that human connection can beat racism. Kenzi then took the mic to deliver a concise lyrical cry for freedom. Jay then flipped through his mobile to locate a DH Lawrence tribute poem.
Frank McMahon then took the stage, Jeremy Corbyn type hat still on head. Frank has now produced 10 books of poetry, and publishes 3 a year these days, probably the most prolific poet on the planet. Frank oozes nonchalant serenity, but also shows a thoughtful side, with cutting observations about the state of the world, and about his own life, with curled efforts of well-placed humour finding the top corner of the goal every time. He opened with 'Guns of America', then 'Facebook Lies', 'Repayment', and then 'Jesus Saves', which observed that Jesus may have been frugal, 'turning mortar into wine'. Or maybe Jesus was the best shot stopper of his day.
Frank's words threw out challenges to the routines and rituals of modern life, asking questions, expressing a gentle exasperation with the world. Frank asked if there were any Thomas Hardy fans in the audience. Not a single hand was raised, but Frank ploughed on regardless, explaining that Hardy's work was pioneering in identifying inequality, with 'Hardy's Due'.
It was a typical Frank McMahon set, blasting quickfire through a landscape, around Britain and the rest of the world, and Frank concluded with 'From Green to Black', about his family's journey from Ireland to the industrial smoke of Wolverhampton. Another fine set of poems from the man in the Corbyn hat.
Martin announced a short intermission, the first act completed, in the Understudy.
Open Mic Part 2 commenced with Toby playing guitar and singing his 'bitter pirate music'. His theme was the bonds that families have, focussing on the aspirations of young men and reflecting on past family life. It was heartfelt and soulful.
John Humphreys took the mic next, informing us he'd come out of his zombie period, after a series of family tragedies, and was now an angry zombie. He read 'Shouting at the TV', all about the avalanche of commercials we are subjected to daily, and a tribute to singer Phil Oakes who took his own life, 'While I'm Here'.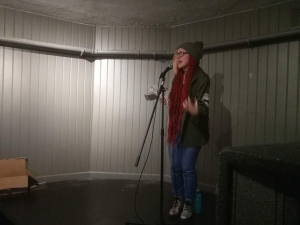 With any further pauses, Sophie Sparham, the second headliner, took the stage, wearing the chunkiest bobble hat I've seen for years. She proceeded to deliver a fine and diverse set of poems, reading from a scruffy pile of A4 sheets. She began with 'O Come All Ye Faithless', which was a hymn of solidarity for every loser in life. 'Laura' was then introduced, and a bundle of themes appeared, wage slavery, the banality of weather reports, victims of modern life, where another lonely girl dies in another lonely town, how freedom can be hard to find. Sophie took us back in time to Wilfred Owen and the first world war, and read an update of his famous poem, 'Dulce and Decorum Est', she gave us, '21st Century Dulce', with a world war taking place in a pub. The bobble hat came off. Sophie reminded us that we are celebrating 100 years of women gaining the vote in the UK and we travelled through time, through the eyes of a suffragette. A stellar line imprinted itself in my head: 'we are our own riot act'. Sophie pondered what might be achieved in another 100 years.
It was an intense and wonderful set, which threw light on some of the world's problems but held on to more than a fistful of positivity. 'Hold My Hand' towards the end of her set was a touching and poignant piece about being different and struggling to find acceptance in a small community, trying to find the courage to be who you are.
From The Word Go took the stage, wearing mismatched straw summer hats, Julian playing the didgeridoo while banging a drum, while Martin talked to the rain, having a conversation with precipitation.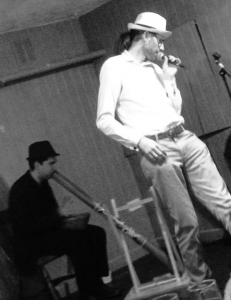 Julian passed a box around the crowd and asked everyone in the audience to write a word on it. This was to be returned to the stage later for processing.
Martin and Julian proceeded to have a conversation with each other, with one talking Italian, the other French, in an argument over who owned the brolly. It was Pinteresque stuff, and they completed a transaction for the brolly by haggling over which currency should be used. It felt symbolic of the state of Europe, with the cloud of Brexit hovering above.
We were treated to Julian's juggling while Martin recited verse about how time seems to stand still and we jump through the same hoops. We got 'Evad Should Be More Like Dave', with rapid fire exchanges between Julian and Martin.
The box with words written on it was returned to the stage and Martin selected some of the words and constructed a poem from them, delivering a strong message of hope and connection.
The most poignant moment was the sketch about homelessness, which ended with Julian wandering through the first 2 rows of the audience asking for help. No one responded and that echoed how things are these days. It was a powerful moment.
It doesn't get much more original than FROM THE WORD GO. Martin and Julian created a panoramic vista of entertainment that amused, entertained, but which also left questions hanging in the air.
It was a remarkable evening and undoubtedly one of the highlights of Nottingham Poetry Festival.