Review of DIY Poets Showcase 8th February 2018
Review of DIY Poets Showcase 8th February 2018
DIY Poets Quarterly Gig At The Maze 8th February 2018
Reviewed By Frank McMahon
First up was co compere Sue Allen who did some poems that she described as "being out of her comfort zone," with lots of word play. Poems such as No Place for Poets with its image of "crushed between bus stop and litter bin" created vivid and sad images. I was also particularly impressed by Burning Through Skin.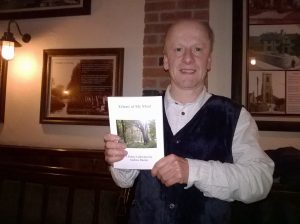 The night's other compere Andrew Martin delivered a set of typically topical and political verse, with subjects including job losses at Toys Are Us. He then gave the audience a choice between poems on Carillion, plastic pollution or the NHS. The audience chose Carillion. Andrew asked "Why are you so rash with corporate cash?" He finished with a poem against the idea of the Alpha Male, Alphafa Male, from his newly published book, Echoes of the Mind.
John Merchant's poems included a polemic against those who want to pass the buck and evade responsibility. Especially impressive was Deal With It, which could be called an anti-procrastination poem.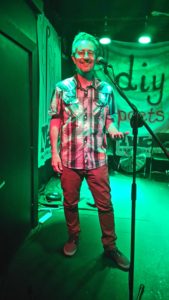 Martin Dean kicked off his set with a poem for his wife's birthday, which was 'mostly nice' called A Steal, with the following memorable lines; "cutting edge laser beam finger, from under my nose she stole my heart." Other highlights included a poem set in Nantes, the town where Jules Verne played as a little boy. The poem; Jules Verne and the Giant Elephant includes the following evocative lines "the welding together of disparate lives" and the "silvered ribbon of history".
Martin Grey
Martin's set included a memorable and moving poem about a memory of going for fish and chips with his grandad when he was fifteen, "lard fried sustenance. " "I'll ask him all the questions I never thought to ask him at the time."
John Humphreys
John delivered a typically powerful set. John's first poem celebrated the art of Rachel Whiteread, the first female artist to win the Turner Prize. John called on us to "celebrate suffragettes of culture" the poem was called House, after Whiteread's work of art House, which was sadly demolished not long after its creation by the local council. The house was "cracked, missing, peeling, rusted, empty, falling, silent, lost' and 'dusty with death'
Then there was an ode to prolific songwriter Will Oldham, of which there were no fans in the audience (John asked if there were any fans), who John noted had a "penchant for strange, darkly mysterious imagery." It was also an ode to the EP, that musical half way point between single and LP. Memorable lines included " I refuse these cup of fools"
John also mentioned his book "The Day I Swallowed the World" which has a range of powerful poems, with quite a few on the themes of art and music and is well worth reading.
Clare Stewart
Clare started off by recalling a memory of a Monday in January 2017, a 'memory of comfortable irresponsibility" and a "warm duvet, a camouflage against accountability."
Her next poem Metaphor for Life looked at the transience of beauty, "sparkly snowscape in the sink" and how she "can't bear to throw out this prettiness. The narrator in the poem wishes that they had the "courage to spoil it"
Finally her poem Terror memorably evoked memories of childhood. The poem is about Clare's younger brother, "alligators under the bed" and "he mustn't know I'm scared. "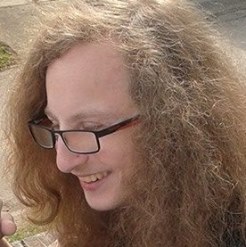 Our featured poet was Jake Wildeman who has not been performing poetry for that long, maybe a couple of years, but who has made a big impression within that short period.
Jake kicked off with a series of memorable and witty poems inspired by working in the Sue Ryder charity shop in Nottingham city centre.
There was a poem inspired by the Smiths, who Jake used to hate but has now started to like. He referred to This charming shop, a reference to both the charity shop and the Smiths. Jake explained that as his manager liked the Smiths, he liked his manager and therefore he began to like the Smiths. He further evoked the Smiths with the following phrases; "this charming manager" and "what difference does it make"? Other musical references linked to the charity shop were Planet Caravan by Black Sabbath.
Other poems described how Fear drives all that people do and 'the driving force to all I do is fear. "
Loyalty is Dead where "even the greatest ego cannot outlast eternity"
I really liked Lady Autumn "season of bitter ice, dead trees and empty days, she has a boyfriend now"
I also liked Fire. Jake informs us that it's not the Arthur Brown version, "she cannot be doused or snubbed out."
There was a lovely poem Jake devoted to Leanne Moden, co-host of Crosswords open mic at the Malt Cross, called Busy, "always be doing something, always be busy."
To conclude a very memorable set from Jake who seems to be getting better and better.