My Family And Other Superheroes
My Family And Other Superheroes
Reviewed by Frank McMahon
My Family and Other Superheroes is the first book by Jonathan Edwards. There is a lot of sometimes surreal imagery, such as in Evel Knievel Jumps Over My Family which has the stuntman attempt to jump his motorbike over all the generations of the Edwards family, "his anxious face an act to pump the crowd, surely".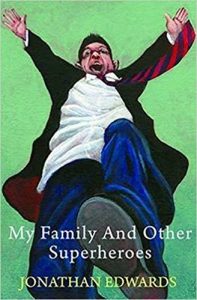 There's a story of how his parents met involving Gregory Peck and Sophia Loren in Gregory Peck and Sophia Loren in Crumlin for the filming of Arabesque June 1965
There's a lovely portrait of his father who loves cars in How to Renovate a Morris Minor : "Camouflage green overalls, hiding under the car all day from my mother. What is he but a pair of feet.!"
Cheerleaders is a fine poem celebrating cheerleaders at an American football game "their bodies jumping stars" and "touching cowboy boot toes to their knees" and the anti-climax of the match itself "now here come the men with their metal helmets, their little ball, their protective shoulder pads"
In Bouncers the men "have the miraculous visions of a prophet/over the shoulder of whoever they are talking to." A child leaving the theatre says to his mother "mummy, look at the unhappy men."
This is an enchanting and beautiful book.