Crosswords is a fab little Nottingham-based spoken word open mic night with plenty of open mic slots and a featured poet every month! In April, we have Aoife O'Connor, Emericana Desouza and Jo Lewis from She Speaks as our special guests!
She Speaks UK is a monthly performance space in the East Midlands hosted by Aoife, Emericana and Jo. It's an inclusive and supportive safe space promoting and platforming female, trans, non-binary & femme-identifying artists. Events are female-led but not female exclusive with an open mic for all genders and an open audience. The co-founders are proud to hold a space where first-time performers are warmly encouraged, yet perform alongside well-established headliners.
She Speaks was founded in 2017 with the tagline "Art Is Our Liberation" and has since collaborated with organisations including International Women's Day Festival Derby, LGB-QWERTY, Artcore, Furthest From The Sea, Nottingham Contemporary and Derby Women's Centre. She Speaks has hosted as part of the Derby Poetry Festival in 2017, featuring the Trinidadian poet Shivanee Ramlochan and again in 2018, featuring Bristol based poet Vanessa Kisuule.
In 2018 the collective began reaching out to more groups in their community through facilitating workshops including creative writing & performance skills for young people as well as craftivism for women & girls.
Arrive at the Cock and Hoop from 7:30pm on the night to put your name in the hat for a short open mic slot. We like poetry, prose, storytelling, a cappella singing, and monologues! Or you can just come along to listen – everyone's welcome! Entry is £2 per person and refreshments are available.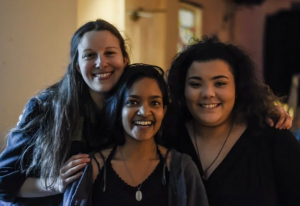 ************************************************************
NB. There are twelve steps to access this venue.