Interview With A Poet: Clare Stewart
Interview With A Poet: Clare Stewart
Q. What inspires you to write?
A. I know others have said it, but it does seem to be true. I come from a big noisy family and – you may not believe this – I was probably the quietest one, partly cos I was a bit deaf and conversation kept flying by me and I missed loads of whatever was going on. My brothers and sisters are all bright and interesting people, and they were all better at commanding attention than me. I still have a strong feeling of being misunderstood often, and of not being listened to properly. Of course, they didn't do it deliberately, in a big family, it's easy to disappear into the background.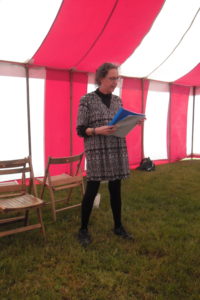 SO NOW I SEEM TO NEED TO EXPLAIN MYSELF AND ACCOUNT FOR MYSELF IN WRITING AND PERFORMING ARE YOU LISTENING TO ME!!?!!? I want to be understood! Then chuck in all the craziness of a Catholic childhood, how could I not turn to writing????